For many, rather than being a season of gladness and hope, the holidays are filled with grief and anxiety. Whether spent alone, or with friends and family, the holidays can be a very stressful time, which can cause people to lean on their destructive coping mechanisms.

Addiction does not only affect the addicted individual - it affects the whole family. Addiction can destroy relationships, and cause a lot of hurt among family members, which can become magnified during the holiday season.

Whether your loved one is currently in recovery, or is needing to begin their recovery, here are some ways in which you can support them during this time.
How to Support Your Loved One
1. Set Healthy Boundaries
Setting boundaries between you and your loved one should be mutually beneficial. Although you want to support your loved one, you need to be careful not to enable them. Some examples of healthy boundaries include:
Refusing to loan them money
Not allowing substances in your home
Not allowing them to show up high or drunk
Not putting up with aggressive or manipulative behavior
Discussing these boundaries with your loved one will help you both know what you can expect from each other.


2. Don't Shame Them
Addiction is usually a result of emotional pain and trauma, which is why shaming people who already feel ashamed will only fuel their addiction more. Be mindful of the fact that addiction is not an active choice - it consumes the brain to the point that even if a person wants to stop, it is much more difficult than it seems.
Reminding your loved one of how they've hurt you in the past because of their addiction will only make matters worse. When a person feels ashamed and worthless, they will feel the need to revert to their substance of choice as a way of coping with these emotions.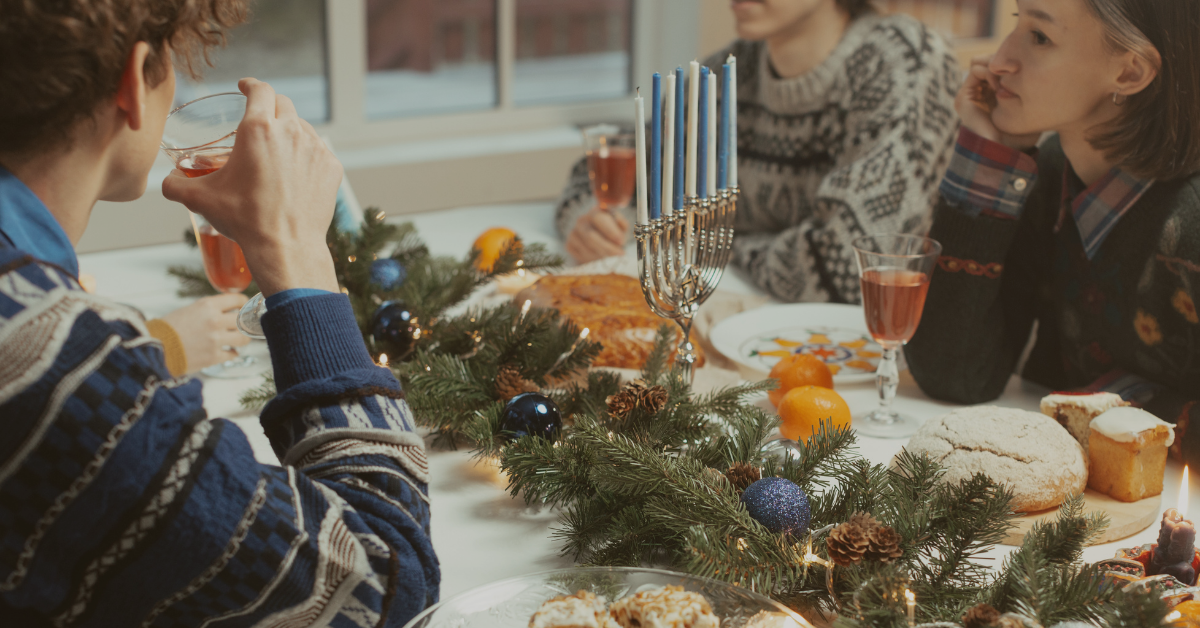 3. Help Them Manage Their Triggers
If your family member is willing to have a conversation about it, try to discuss what their triggers are beforehand so you can be best equipped to help them manage them.

Here are some practical things you can do to help your loved one stay sober during the holidays:
Don't serve alcohol. This is one of the biggest triggers for those who are recovering from an alcohol use disorder. When everyone else is drinking except for them, they may feel left out, and begin to question why they gave up alcohol to begin with. Instead, serve other festive, non-alcoholic drinks that everyone can enjoy.


Keep them busy.

Boredom is another major trigger for those dealing with addiction. Indulging in substances passes the time, and makes things seem more fun in the moment. Consider making a plan for the day that you can fill with different activities to ensure that there isn't too much time for boredom.

4. Don't Isolate Them
Although facing your addicted loved one can be difficult and bring out a lot of hurt, isolating them is one of the worst things you can do for them. It has been said that the opposite of addiction is connection, so try to keep them connected to family and to support groups as much as possible.

If your family member usually attends support group meetings or other forms of counseling, encourage them to continue to do so during the holiday season - whether in person or online.

5. Check in With Yourself
In order to support someone else, you first need to ensure that you are in a good space mentally and emotionally so that you don't neglect your own needs while supporting your loved one. A few practical things you can do for self-care include:
Getting enough sleep
Eating a balanced diet
Asking for help when you need it
Meditating
Journaling
Attending counseling or support groups
Remember that your loved one's addiction is not a reflection of you or anything you have done. Although you can offer support and encouragement, only your loved one can ultimately decide if and when to go to treatment and begin the healing process.
If you have a loved one who is struggling with an addiction, Aquila Recovery is here to help. We offer support for family members who are affected by their loved one's disease of addiction, and can guide you in how to best navigate this situation.
Reach out to our experienced staff to find out more about how we can support you in this difficult situation.