Referral Information for Medical Professionals
American health research leads the world, yet many new practices are not applied to the high prevalence of heavy alcohol and other drug use. Aquila's application of new practices and medicines help produce success.
Co-occurring illnesses are assumed until otherwise diagnosed. Consents are urged for family health professionals. Relationships with existing mental health care are encouraged and reinforced.
Appropriate medications and therapies are available to all clients. Treatment plans are tailored – with client input and ownership – to client's goals. Medications are only used in concert with counseling and talk therapies.
Please contact us at 703-454-5874 to discuss a potential referral, or fill out the form below.
Partner With The Best
We have a passion to improving the response to the disease of addiction and embrace the latest science of recovery.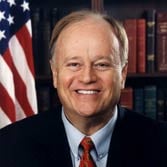 Johnny Allem brings the creativity to build successful business models and the passion to improve our response to addiction disease. The Aquila project will change how America sees and responds to problems with alcohol and other drugs.
Max Cleland
Former U.S. Senator from Georgia, appointed by President Carter as Administrator of the Veterans Administration, recipient of the Silver Star and Bronze Star for actions in combat in the Vietnam War