If you're looking for a special non-alcoholic drink these holidays, I have you covered!
These mocktail recipes are easy to make, healthy and taste delicious.

For more recipes and alcohol-free inspiration like this, visit The Mindful Mocktail.

1. Pomegranate Mulled "Wine"
There's nothing cozier than wrapping your hands around a big steaming mug of beautifully spiced mulled "wine." This recipe will warm you up from the inside out.

Ingredients
2 Cups Pomegranate Juice
2 Cups Reduced Sugar Cranberry Juice
2 Cups Water
8 Cloves
6 Blackberries (optional)
1 Cinnamon Stick
3 Star Anise
1 Sliced Orange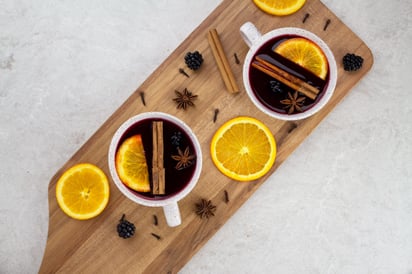 Instructions
1. Add all ingredients to a pot and bring to heat until just bubbling.
Turn heat to very low and steam/simmer for 20 minutes.

2. Strain, or remove orange slices and spices.

3. Pour into mug and add garnish.

(Makes 4 large mugs)

2. Strawberry Cucumber Cooler

This combination of sweet strawberry and fresh cucumber is delicious and oh-so-healthy!
(If you're not much of a sweet tooth you can leave the sweetener out).

Ingredients
3 diced strawberries
2cm grated cucumber
1tsp sweetener (optional)
Juice of half a lime
Sparkling water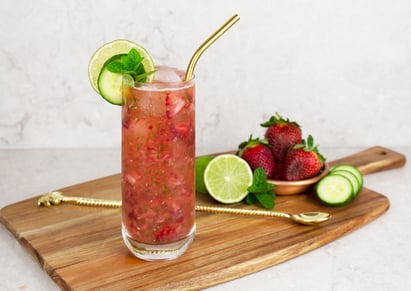 Instructions
1. Muddle strawberries, cucumber, sweetener and lime in a tall glass.
2. Add ice and sparkling water then stir.
3. Garnish and serve.
(Makes 1 drink)

3. Ginger Nojito
Ingredients
1 inch grated ginger (or to taste)
1 inch grated cucumber
Juice of half a lime
6 mint leaves
1 tsp sweetener (optioonal)
Ginger beer
Sparkling water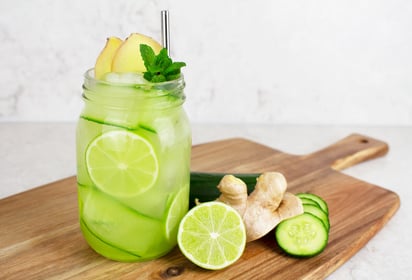 Instructions
1. Muddle ginger, cucumber and lime in a bowl.
2. Clap mint leaves together to release scent, add to ginger mixture and give it a gentle press.
3. Strain mixture into a glass and add ice.
4. Top with half ginger beer, half sparkling water.
5. Garnish and serve.

(Makes 1 drink)

Notes:
Use a little less ginger if you don't like it as strong.
You can also use all ginger beer or all sparkling water if you only have one or the other.

There are some delicious Christmas recipes coming up on my Instagram as well, so don't forget to follow along.

Cheers!

Natalie