If you have decided to make it your New Year's Resolution or goal for 2021 to quit drinking, you may be feeling overwhelmed and unsure of where to start. Maybe you've tried it before and were not successful, causing you to feel reluctant to try again. What you need in order to be successful are some practical strategies that you can incorporate into your daily life.
1. Write it down
Studies have shown that when people write down their goals, they are 3 times more likely to achieve those goals. This is because having a physical written copy gives you the opportunity to think through your specific goals, and it is easier to tell whether you are on-track or off-track for reaching them. Think of it as a commitment to yourself. Perhaps you will choose to start off by limiting your drinking, and only drinking on certain days of the week, or at a certain time of day. Whatever your goal may be, make a commitment to yourself by writing it down, and keeping track of your progress. Mark down every time you have a drink so that it is clear if you are straying from the goal that you committed to.
2. Tell someone
Telling someone you trust about your decision to cut back on or to quit drinking can give you more motivation to stick to this goal, since you are now committing not only to yourself, but to another person. It can also be helpful for them to check in with you to make sure you are staying on track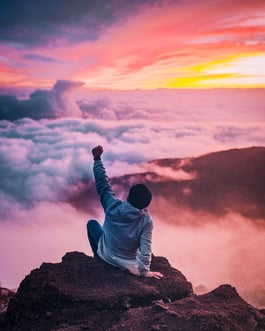 with your goal, and to support you when you are struggling with the desire to have a drink.
3. Eliminate temptations
If there are certain things or people that trigger your desire to drink, try to stay away from them. This could be staying away from bars and restaurants where alcohol is served, or not hanging out with people who you associate with drinking or who tend to encourage or pressure you to drink. Since you know the specific goals that you want to accomplish, don't put yourself in a situation that will cause you to lose focus and keep you from accomplishing them.
4. Get involved in a support group
If you want to get serious about quitting drinking, it can be very helpful to get involved in a community of people who have the same goals as you. This could be with people who you already know, an online community or an in-person support group. Remember that you are not the only one going through this, and others want to see you succeed. Hearing about the experiences of others, what worked and what didn't work for them, can give you guidance on how you can move forward.
5. Seek treatment for underlying causes
Co-occuring disorders (a substance use disorder + a mental health disorder) are very common. There may be certain emotions or struggles in life that causes a person to drink. If you feel yourself reaching for a drink anytime you're stressed, anxious, depressed, etc., you should be seeking help for these issues. You may be surprised at the positive impact that can occur when you address and treat these underlying issues properly, rather than trying to fix the problem with alcohol.
6. Remember that it's a marathon, not a sprint.
Be patient with yourself, and forgive yourself if you slip up. No one is perfect, no one has it all figured out, and this will be a learning curve for you that will require a lot of trial and error. Take it one day at a time, and try to limit your alcohol consumption more and more. Over time, it will get easier; you will find that you have developed a new pattern that your mind and body become accustomed to, and you will likely feel that the less you drink, the less you feel compelled to.
If you need support during this time, contact us. We can help you determine a treatment plan that is right for you so that you can achieve your goal to quit drinking.