One of the challenges for friends, family members, and loved ones of those addicted to drugs and/or alcohol is Euphoric Recall.
What is Euphoric Recall?
Euphoric Recall is the psycho-physical experience of remembering the "good old days": exaggerating pleasurable memories of past drug or alcohol use while blocking out or repressing the bad memories or pain of past drug or alcohol use.
Whether it's 30 days or 30 years, if you're in recovery you're always in danger of Euphoric Recall. It sneaks up on you when you least expect it, and it's a mind game that you'll lose if you're not prepared and take action for your continued recovery right away.
Euphoric recall often takes place in the form of stories in which drinking and drug use experiences are glorified and stories are made to be much better than they actually were.
In an anonymous blog on Alcoholics Guide to Alcoholism, an author describes his own experiences with Euphoric Recall. "The thing is, when I thought of a drink, it wasn't of the last time I drank. I didn't think of the violent shakes, the vomiting, the DTs, hallucinations. No, I thought of sunny lit bars with sexy barmaids, and people drinking, laughing, and having fun. Music playing, people dancing etc." he said. "It had been some years since this had been my drinking experience, but this facsimile in my head, of what a drink looked and felt like, would play like a film across my mind. It has accounted for many alcoholics relapsing, thinking that drinking will be like the good ol' days, to find it returns them to a living hell, worse than the last hell they dragged themselves out of."
Euphoric Recall is often accompanied by a disappointment in how reality is playing out in sobriety. Life has its bumps and when you're looking back on "the glory days," continued sobriety can seem less than fun. You may be thinking "Sobriety is not nearly as exciting as having a few drinks. This isn't worth it. The people at AA are just too much to deal with. I still feel awful, what's the point?"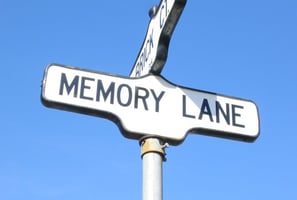 When someone starts glorifying the old days and is disillusioned with their current situation, relapse may not be imminent, but it's near. This is the time to do something about it.
How to Fight Your Way Back
Recognizing that nostalgia and disillusionment are huge red flags is sometimes enough to turn things around. In his book From Drug Addiction to Recovery, Bob Tyler says, "It is very important to recognize when you are engaging in the positive thoughts of using and begin focusing on the negative aspects. If recognized soon enough, it is often just that simple."
If you feel you're starting to slip, here is some advice from experts:
Focus on the negative aspects of your old life

. Be realistic. "Play the tape" forward, imagining what will happen if you pick up that bottle or drug again. The first drink or hit may seem compelling and worth giving up your sobriety, but based on your past experience, what will soon follow? What happened the last time you chose drugs or alcohol – a week later, a month later, six months later? Play that tape forward until you are present to the reality of what life is like living with an addiction.



Focus on the positive aspects of your new life

. Tyler says that it is important that you divert your attention to the positive aspects of your recovery. "Even if you have just started in recovery, there are many positives that you can pay attention to: maybe you are starting to feel better physically; maybe you are starting to patch up some of your relationships; maybe you are starting to develop new and positive relationships in your life; maybe you are starting to gain some hope because you are rubbing elbows with others who have been where you are and now appear to be doing much better. The list goes on."



Be patient

.

Maria Weeks

writes that, "The solution is to rid oneself of Euphoric Recall! And it's a lot easier than you might think and here's why: if Euphoric Recall is nothing but a memory, don't most memories fade in time? For example, I've forgotten how to speak Japanese, only because I no longer use it living in California. It's estimated that cravings begin to attenuate in about three months, and by the sixth month they are usually gone. Of course there are some exceptions to the rule, for some people cravings may never go away completely. However, they will be a lot fainter and easier to manage than they were in early sobriety."



Call on your support system

. They are there for you and will remind you how far you've come on your journey. Attend your support group meetings, talk to your counselor and sponsor, and share your thoughts with them. They can provide an accurate perspective on what your life before sobriety was like, and remind you of the losses, broken relationships, and misery active addiction brought.
Euphoric Recall—remembering the glory days—can entice you to have "just one slip" to re-create that moment in memory of "happiness." However, for most people, returning to drinking or drug use after suffering with an addiction is a return to emotional and physical pain, strained relationships, and broken promises. You quit for a reason and you need to remind yourself of that.
If you are finding the temptations to drink or use to be too strong, reach out to a local support group, your sponsor, or contact us to keep working on your sobriety skills.
You CAN do this and it WILL get better.