At Aquila Recovery of Virginia, you have the choice of what kind of treatment for your drug or alcohol addiction that you would like to receive during these difficult COVID times. We offer both in person outpatient and remote treatment options for you, to ensure your safety while still delivering the highest level of care possible for you or your family.
Looking at remote health, clearly both medical care providers such as Aquila Recovery and patients see many benefits coming out of the new models of remote care, especially in the current COVID environment. In the US, patient interest in digital platforms is remarkably high. Mentions of "telehealth" in social media and news reports went through the roof in March, going from minimal mentions to 5,000 mentions per day.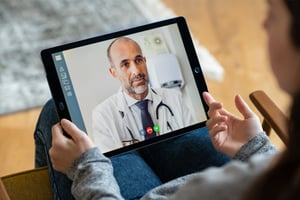 Conducting appointments via telephone and video has been the biggest shift in the care model during the COVID-19 crisis. A recent survey found that more than 50% of patients in the US are using remote care. Governments and insurance companies are also now taking steps to enable this. Insurance companies didn't use to pay for remote treatments, but now they do.
Moving face-to-face appointments to remote consultations also makes it easier and improves access for patients, especially those who live far away from us or who are hampered by poor mobility. Remote consultations can also be more efficient, as people do not need to travel to our location. And, during the COVID-19 recovery period, the remote-first approach will help to minimize the risk of infection and protect you and us. Remote treatment is better than no treatment if it is the only or safest option available
What is the process for treatment at Aquila Recovery?
You will make an Initial call into Aquila and speak to us
You will need to be evaluated by a licensed clinician to recommend a level of care for you. There are currently 5 levels of care:
You do not need treatment at this time
Outpatient treatment with Aquila Recovery either in person or remote
Partial Hospitalization
Inpatient Facility
Detox - Aquila Recovery has a referral program in place with a detox centre.
If you cannot access remote treatment, or you absolutely need to see someone in person, we can also facilitate this. For in person outpatient visits, all necessary measures are in place to ensure your safety. We practice social distancing, we use masks and full sanitizing procedures are in place. In person outpatient visits are safe, however remote treatment will continue to be the safest option during COVID. Aquila Recovery is committed to giving you both remote and in person options and making them as effective and safe as we can. Use the form below or the phone number above to reach out today to find out how we can help you with your drug or alcohol addiction.